Age 10 to 12 years old
Its a Feast!
10-12 year olds can do much with just a little supervision. Now is the time to give them freedom to choose a recipe and follow through with a little help. Some of the lessons we will teach:
• Knife safety – we use soft cutting materials and plastic knives
• Oven safety
• Planning and shopping for meals
• Using a blender other kitchen appliances
• Using oven with supervision
• Chopping vegetables with supervision
• Following steps and preparing simple recipes
At this age, children have learned the basics of stirring dough, rolling, putting ingredients together, etc. It is time to use these skills to create meals and masterpieces!
Each lesson will cover the safety protocols of the day. We will discuss selecting our food, as well as where and how to buy it. Worksheet exercises and quizzes will keep them busy during cooking times. We also re-visit table manners and etiquette, as well as a proper place setting. Continued lessons on measuring tools and how to double and halve a recipe. They will also start their very own cookbook with shopping lists to go with their chefs hat and apron!
Cost is $150 per student. Classes are once a week for 4 weeks.
Price includes all food, chef hat, apron, and workbook.
Payment due before first class. Cash, check, PayPal.
First Class Starts Friday JANUARY 15th, 2021 4:15pm
Classes are 4:15pm to 5:30pm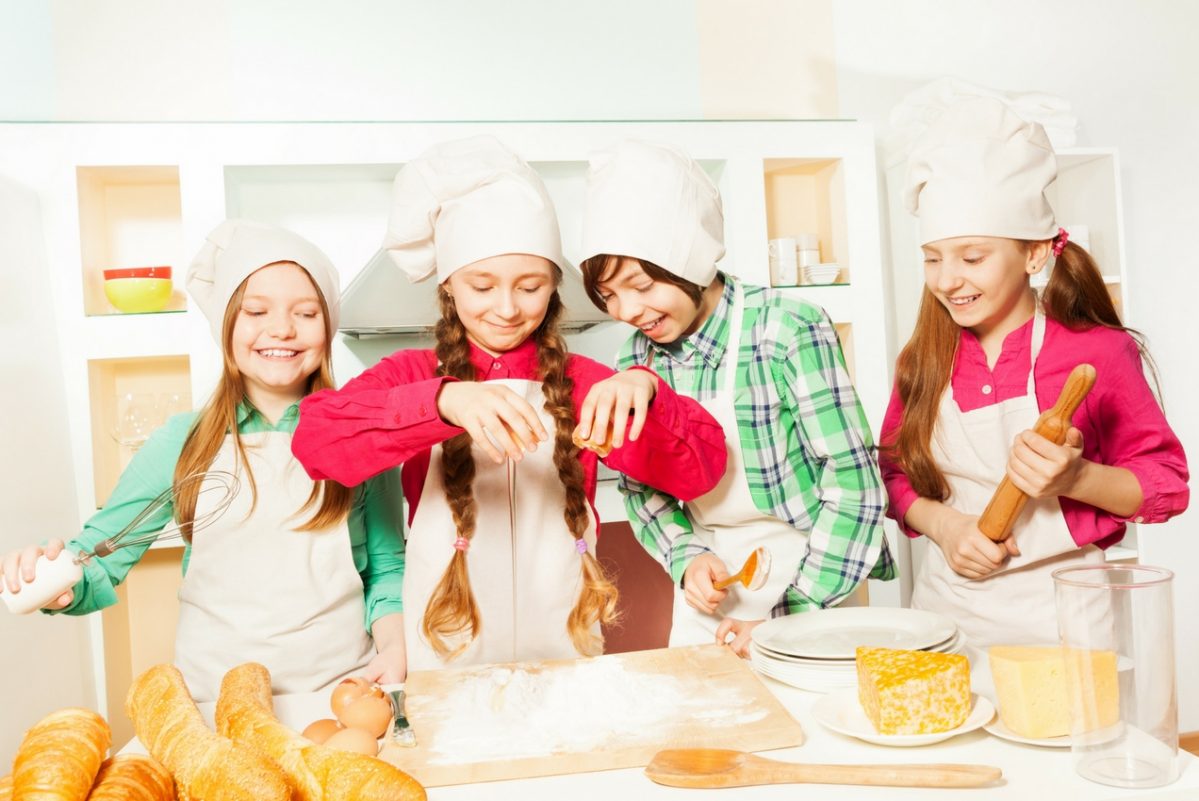 Lessons are fixed, while final meals may vary
Day 1 Lessons – Breakfast
Kitchen Safety – Knives, Oven and Stove
Reading Recipe's and doubling/halving
Chopping Veggies and Ham
Timing
Omelettes and Fritatta's with toast and cinnamon apples
Day 2 Lessons – Lunch
Kitchen Safety – Germ Control – Stovetop
International Foods
Cooking Terms
Handling Raw Meat
Cutting meat and veggies
Making Chicken Stir Fry with Rice
Day 3 Lessons – Dinner
Kitchen Safety – Oven and Stove-top
Planning and Preparing Meals
Grating Cheese and Veggies
Setting the table
Making Mac'n'Cheese with Bruschetta
Day 4 Lessons – Dessert
Kitchen Safety – Recap
Nutrition – Food Plate/Pyramid
Making Pie Crusts – dough and graham cracker
Making Real Whipped Cream
Chocolate Cream, Banana Cream, Coconut Cream Pies
Cleaning the Kitchen